First off, thank you for being one of the very first to believe in Honest AI!
It has been a fast and furious few weeks here, but I have been happily surprised by the reception this project has received at every turn! I pushed four significant updates to the website code this week and have few more ready to go –this truly is just the beginning.
The community is almost ready!
The centerpiece of Honest will be a community where technical and non-technical people work together to create positive applications with AI. There gap between what people read in the media and what really needs to be understood is getting wider, let's work to fix that!
This week involved creating the structure for the community using the brand new Circle platform.  After a great deal of research I found this is clean piece of software to be the clear leader – I hope you will really enjoy it.
This will be a paid community to keep the quality high, but as early believer you and anyone you refer in the near future gets free access for life!  I will be sending out invites this week, so be on the lookout 👀.
What is in the community?
Show Us Something - Product Hunt for AI and demos. Promote your project! Posts are public and indexed by Google. 💥
Introductions - Say hello and build connections in the AI space
Ideas & Honest Feedback - Have an idea? Post it here for clear, no-punches-held feedback.
Jobs - A free to post place to find jobs in AI and ML.
Creators Chat - Building something? Publish a worklog and get help when you need it.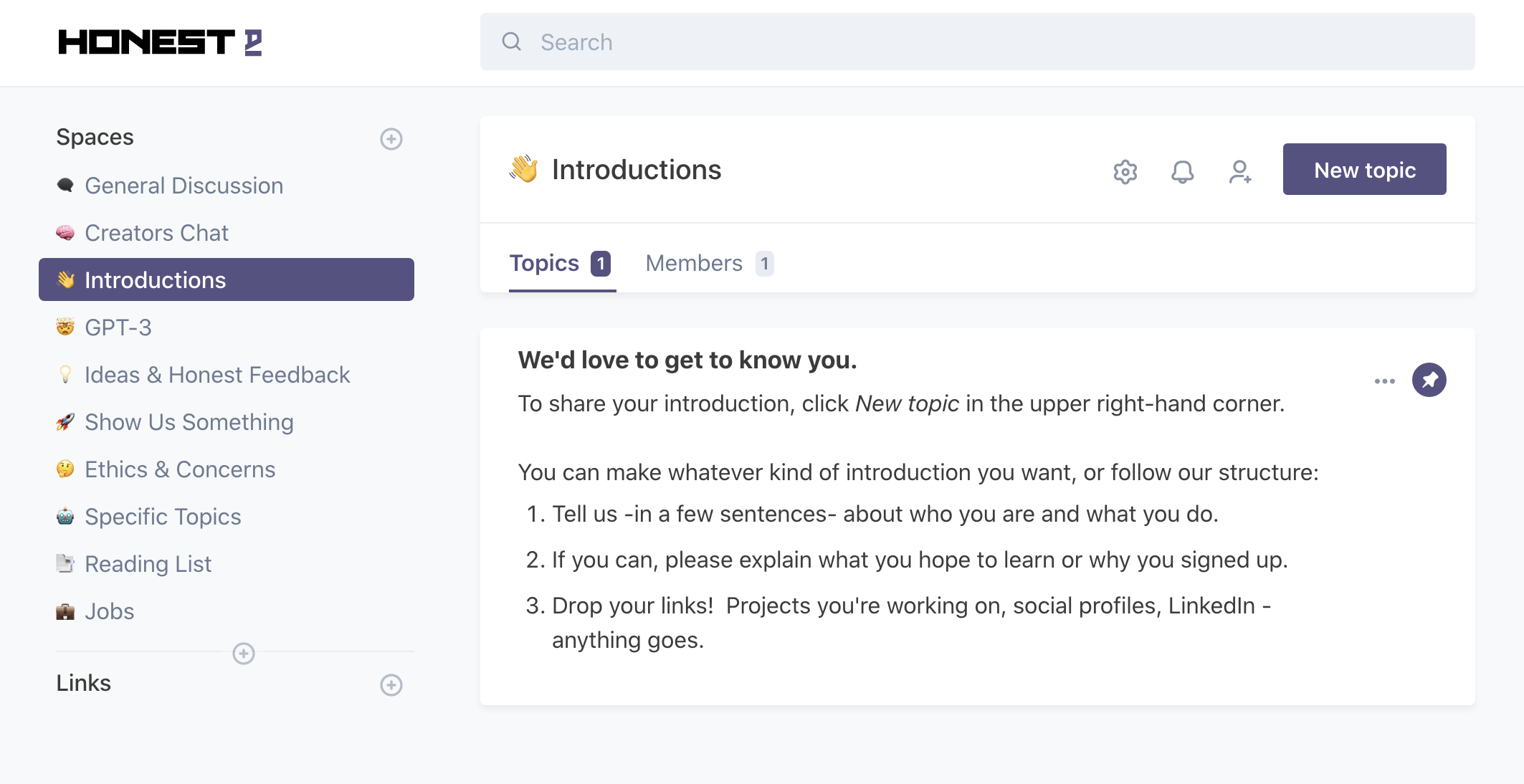 Demo Day
Last Wednesday, Honest made its first public appearance when I was selected to present at the Pioneer GPT-3 Demo Day. Despite some jokes about creating a bot army, I am happy to say that my demo on synthetic personas was voted to second place by the audience! You can see a short example of the demo in action below.
GPT-3
Are you tired of GPT-3 yet? I sure hope not! The last few months have be abuzz with talk of the language model from OpenAI. I expect GPT-3 to continue to dominate over every other AI conversation for a foreseeable future. With that in mind, I have a number of different demo apps in-progress to continue to push its limits and show off the real-world utility it can offer. I will be discussing these in-depth in the community, so if you are interested,  join in. :)
OpenAI has been continually changing details behind the scenes, so I have chosen to make honest-ai.com/gpt-3 a living document that will be updated regularly. Check back if you are ever wondering about specifics.
Last week OpenAI decided to extend the free beta period for the API until the first week of September and put a pause on taking new production applications until 8/31. They also are slowly opening up the capability to fine-tune your own model, with the wait time for access stated as up to 'a couple of months'.  The model has performed slower than usual as they continue to allow new users to access to the API. By the numbers, the OpenAI beta Slack group now counts just over a thousand members, 2x more than last month.
You can help!
A community is only as strong as its members. If you like the concept of Honest AI, I would truly appreciate it if you shared it with someone.
Follow Honest's new profiles around the web:
Twitter
Youtube
LinkedIn
Instagram

Thank you,
-Tyler

PS: If you ever have any feedback just hit reply, I will respond to all comments.